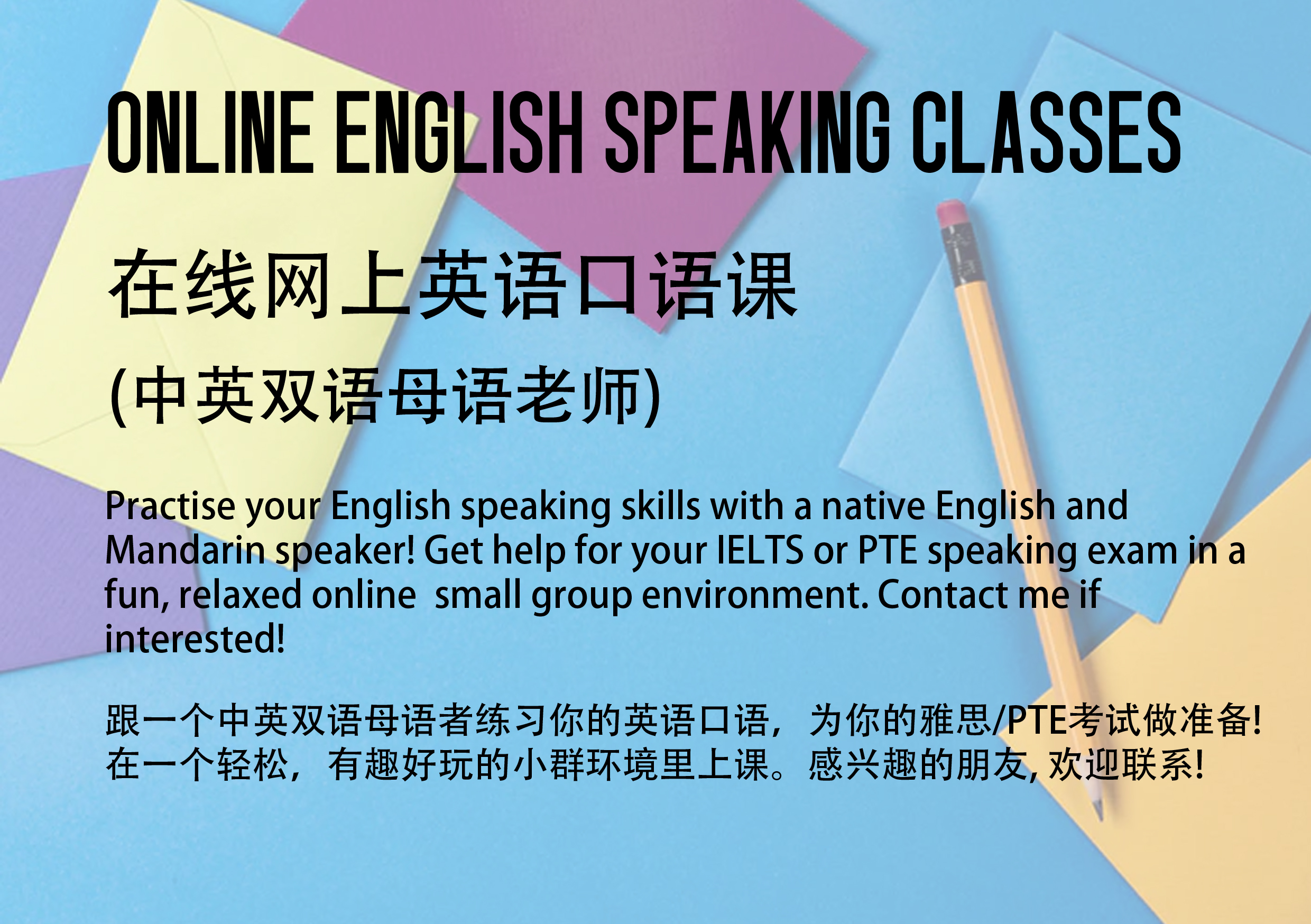 Small group, online English speaking lessons with a native English and Mandarin speaker
Are you learning English for studies or work, and need to pass your IELTS or PTE speaking exam? Do you need help practising your speaking skills?

I provide online live English speaking classes in small groups so you can practise speaking out loud to prepare for your IELTS or PTE speaking exam.
The benefit of a small group is that it simulates a real social environment and you can practise speaking to a stranger (because your examiner will be that stranger on your testing day!)
I do classes in small groups, minimum 4, on weekends, each class is 55 minutes long.
In the class:
You will have the opportunity to practise and improve your spoken English and pronunciation
Everyone will have the chance to speak
Learn in a relaxed environment
Learn with a native English and Mandarin speaker
The content of classes are tailored to the needs of the classes and may include:
IELTS and PTE speaking test format
Improving your lexical resource (vocabulary)
Tips on learning
Tips on improving your chances of passing your test
Make all your mistakes in the classes so you can go to the IELTS speaking test with confidence!
Classes are online on the weekends. Each lesson is 55 minutes and you can pay as you go, pay per class.
If interested, please contact me before purchasing a lesson.
Image is from Unsplash @linkedinsalesnavigator for demonstration purposes only
---
你在为了读书,考试,或者工作学习英文吗?你需要练习口语吗?
不管你是自己学英语还是在学校里学,口语是学习任何语言最难的一部分,因为练习口语的环境不是很容易拥有的。比如,你在教室里上英语课时,课程的多少时间,有你在真正开口说话的?
我是一个中英双语言母语者,我的网上小群课提供一个真实的英语环境,让你有机会练习口语,为你的 IELTS 雅思 或 PTE 口语考试做准备。不考试也可以利用本课程加强和提高你的英语口语水平。
在我的教室里:
你会有机会练习并改进你的英语口语和发音水平
每个都会有开口说话机会的
在一个放松的环境学习
中英双语言母语者学习
具体课程内容会按照学生的要求定的,可包括:
IELTS 雅思 和 PTE 口语考试规格
加强生词
学习英语窍门
提高考试过关的概率的窍门
课程是周末,每一节课是 55 分钟,上一个课,付一个的费用,无须签合同。
感兴趣的话欢迎联系,请联系后定时间再付费,谢谢
图片来自 Unsplash @linkedinsalesnavigator,共参考而已
Small group English speaking lessons
你在学习英文,或者准备IELTS 雅思 或 PTE 口语考试吗?你需要练习口语吗?
我是一个中英双语言母语者,参加我的周末在线英语口语课,练习口语。
每一节课 55 分钟。定课之前请联系我,确认时间。