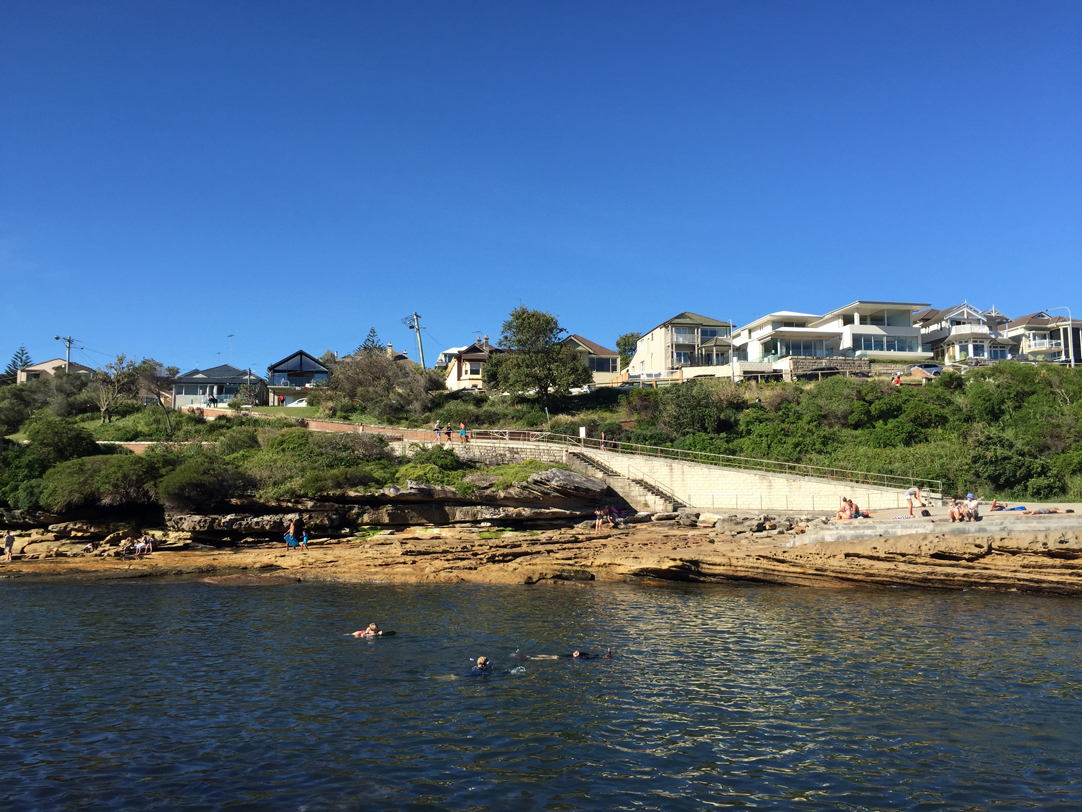 I visited Clovelly Beach on the 30th of December (which is summer for Australia) 2015, in the afternoon after visiting Watsons Bay. Perhaps that was why parking was not hard to find, otherwise the car park would be full during the peak hours of the day especially during the weekend and more so since it was pretty much new year's eve.
Clovelly Beach is a great place for swimming, with an outdoor pool, ocean water and a small sand bank, best of all it is all wheels accessible! The small sand bank/beach is surrounded on 2 opposite sides by the esplanade and a small playground equipment on the middle side.
Clovelly Beach is a local treasure and not many if any tourists come here.
Unlike Watsons Bay near the South Head Heritage Trail, Clovelly Beach had lots of rock platforms to explore, and is wheel accessible. I even saw a pram on the rock platform (although there aren't official accessible routes further down the rock platforms).
As you can see there are some stairs, without railings but it shouldn't be too difficult with a friend helping if you need it.
There is an outdoor swimming pool, right neat the sand bank.
Accessibility
The sand bank is in a U shape, with ramps and stairs on either side so the beach and pool can be accessed by wheelchairs or prams. There is also a very basic playground but you don't come to the beach to play on that when there's rock platforms to explore and oceans to swim in.
The entire area is pretty wheels accessible, from the moment you leave the car park to getting onto the beach. If you don't want to cross the sand and risk getting sand in your shoes, going around the beach is a 1-2 minute walk.
Facilities
There are outdoor showers scattered along the concrete platform next to the rock walls, and some near the surf life saving club.
The Area
The water is shallow so no diving unless you are looking to break your neck. Sometimes you can see blue gropers (so I've heard) in the water so you can go for a swim and look out for these.
You can walk along the entire esplanade that surrounds the water and beach, there are access points from either side of the water and all have ramp access. Both sides can lead to the car park and the on on the other side of this photo goes to the bus stop.
There are speed humps, probably to stop skateboarders and the likes as they aren't allowed. These slopes are quite steep but level out soon.
There are rock walls along the esplanade and there was a small patch of grass towards the rock platforms.
This would be a great place for a picnic, there were park benches and plenty of space on the concrete platform to lay down a blanket.
Getting here
You can catch the 339 or 360 bus to Clovelly Beach Terminus, it is very close to the car park which is also close to the beach. There is lots of space in the free car park but first come first served, as it always is.
339 Bus
Catch the 339 bus from City to Clovelly, and get on at one of the following stops:
Hyde Park, Park St, Stand C, Sydney
Pitt St opposite Australia Square, Sydney
Martin Place Station, Elizabeth St, Stand F, Sydney
St James Station, Elizabeth St, Sydney
Museum Station, Elizabeth St, Stand C, Sydney
Pitt St at Campbell St, Haymarket
(First time visitors to Sydney note: Haymarket is just a tiny little area in the Sydney CBD, it is still in Sydney, Haymarket is where Chinatown is)
Central Station, Eddy Ave, Stand C, Sydney
For a full list simply go to http://www.transportnsw.info, click on "timetables and maps" and enter your bus number.
360 Bus
Sometimes the same bus number is used but are totally different routes. The transportnsw website covers all of NSW, including areas other than Sydney. There is a 360 bus in the Coffs Harbour which is not in Sydney, so when doing your search, make sure you select the Bondi to North Clovelly route. However it is probably easier to catch the 339, depending on where you are coming from as coming from the City CBD means you will need to get yourself to Bondi Junction before changing for the 360 bus.
Rules
Dogs are not allowed, or so the signs say, but I saw quite a few of them, even on the rock platforms. Sirius Cove Reserve is a great dog permitted place though.
For more things to do in Sydney, check out my other posts here.
If you are ready to come visit Sydney, try these affiliate links (what are affiliate links?)
Flights to Sydney:
Jetradar.com
Accommodation options:
Hotels Combined
Booking.com
Car rental
Jetradar cars
---
Whether it is a flight or a hotel, international or domestic, if you travel a lot, or like my blog, or both, please bookmark this page and support my blog by using my affiliate links to make your next booking!
©All rights reserved for all content and photographs, usage on 3rd party sites are forbidden without permission. Photos are taken by author unless otherwise stated.