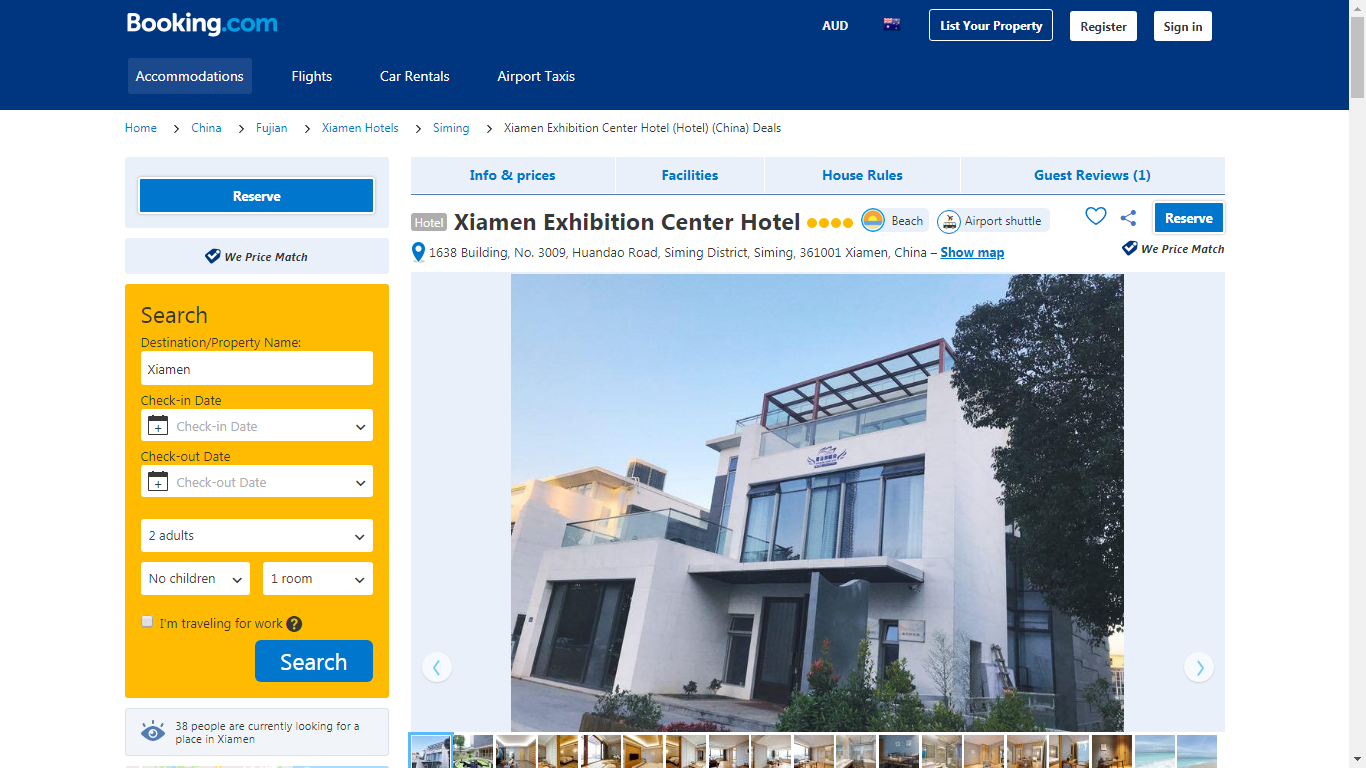 Updated 25/08/2021: Unfortunately this place is no longer listed on Booking.com, but you can find plenty more places to stay in Xiamen, including the Somerset Software Park Hotel.
---
In May 2019, I went on a last minute week long trip to Xiamen, Fujian, China, without pre-applying for a Chinese visa. At the time, certain tourist You can read about that here.
This post is about one of the accommodation places I stayed at in Xiamen. At the time, this place was new and had no reviews on Booking.com or anywhere else, and for a valid reason.
I decided stay here for 2 reasons, one, the interior design seemed nice, and two, I wanted to try a new place that hasn't had any reviews yet.
Although it is "Xiamen Exhibition Center Hotel". Please see this link to avoid confusion, as there is more than one hotel with this English name there. Please also watch this video review.
At the time of writing, this property is listed on booking.com as a hotel, not an apartment or something else.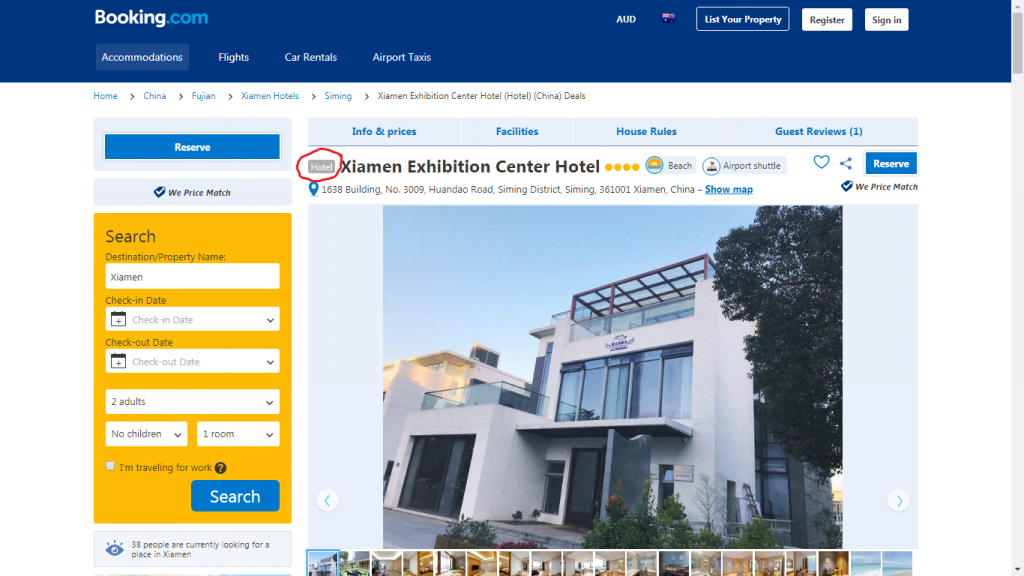 First things first: THIS PLACE IS NOT A HOTEL.
At least not in the sense that there is a reception desk and staff, at least not when I went.
It is actually an apartment converted to have semi hotel facilities.
What constitutes a hotel? A place that provides accommodation, meals and other services for travellers. Even backpacker hostels provide a kitchen to make your own meals even if you are a solo traveller. I'll be addressing their claims on their listing on booking.com one at a time.
The property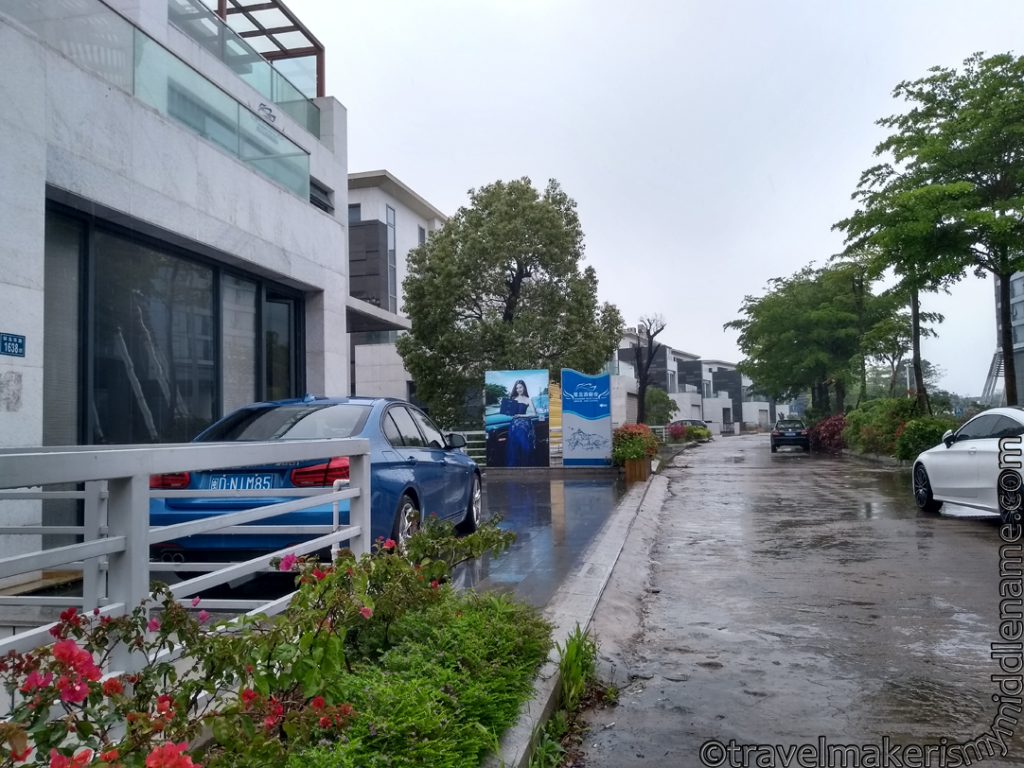 This place is really an apartment in a partially complete residential complex, labelled 'Sagishima yacht club'. There is a 'tea house' on site which consists of tables and chairs where they serve tea they also sell. The reception desk is a large tea table near the door where the staff sometimes stays. There is no lift in the property and rooms start on the 2nd floor, entry floor is reception and tea house and one floor down is the kitchen. The steps are quite high and is worrisome around the curves as, as you can see in my video review, the step does not go all the way around the curve, and there is no railing on the window side, leaving a gap large enough for your luggage to fall several stories.
I had some trouble locating the property because the cab driver, rightly, had never heard of this 'hotel'. He had to call the number to double check the address, as he knew the address to be a residential apartment, which is really what it is. The residential complex itself is hard to access because, like all residential complexes in China, there are security guards out front. You are required to sign in/register with the security guards out front before entering by putting down your name and ID number, which for me was my passport. Actually, they didn't even check my ID, but if you don't speak Chinese, be prepared for some stressful times 'checking in' before even 'checking in'. One night when I was outside the front entrance doing night photography, they didn't even let me back in just before 11:30pm, without telling me why despite me asking repeatedly, until I argued with them, in Mandarin, that I live there.
Then there is the problem of actually getting TO the apartment from the main entrance. Taxis are not allowed in the complex as this is the complex owner's rule, nor are they allowed to wait outside for you, so you'd have to take your luggage yourself from the main entrance to the hotel yourself, in rain (like me), hail or shine. Do not expect door to door service.
From the main entrance, there is what seems to be a fork in the road after turning right. Houses are located along the left fork but that road is lumpy with water filled craters during the rain that caused my shoes to get wet, while the right road was smooth and along the water. Not sure if the 2 end up meeting, I went on the easy to walk right road initially but then crossed over the median strip to the left after a while, as all the houses were on the hard-to-walk left road. That road had significant deep and somewhat wide gaps in the road that went as deep as the water below. They were wide enough for you to drop a small bag a phone, a shoe, a camera or maybe even a small child down it. If you do decide to come here for some strange reason, I recommend you walk on the right side then walk to the end and cross the median strip. There's no mistaking the bright blue sign out the front as all the rest (at least at the time of writing) of the buildings are dark and residential.
While you can see the water, there is no beach access from here, and being somewhat in-land, you really can't tell it is the ocean either. You can see what I mean by watching the video here.
The Room
I admit I went out of my way to book this place because of the interior decoration seen in the photos on Booking.com. I really like Chinese loose leaf tea culture and I went to Xiamen specifically for the Xiamen Tea Fair. I booked a twin room, but got a King room. The reason I booked a twin room was because, if you look at pictures 2 and 3 in the booking.com listing for the twin room, the hotel is tea house themed and it looked like the room had those tea furniture in the room. WRONG. While the room itself was comfortable and large, those photos are of the common area outside and the tea house part, not of the room. So I was very disappointed since I went out of my way to stay here. There was nothing in the room remotely related to Chinese tea culture except the small tea set on the table (but surprisingly, there was no tea).
The rooms itself were clean, spacious, there was a nice bathroom, the bed was very comfortable, and I enjoyed the Chinese painting style pendant light. It had floor boards which I always prefer in hotel rooms, as they are easier to clean. However, as my shoes were wet from the puddles, I wanted to dry them and my socks with the hair dryer. Unfortunately, the dryer is an induction activated dryer, meaning you have to hold it for it to work, so I couldn't just leave it on and dry my socks while I went to do something else.
The toiletries included shampoo, conditioner and shower gel, plus toothbrush and toothpaste. Also had soap. There were 2 sets of toothbrushes (the room had a double bed) but strangely, like other Chinese hotels, had only one comb. There are 2 bottles of spring water in the room.
Paying
PLEASE NOTE: Despite what the listing on booking.com says, this place does NOT accept cards of any kind.
The reason I went out of my way to stay here, goes like this:
I was interested in learning anything I can about Chinese tea house culture, including interior decoration. I saw the decoration of this place seemed like a modern tea house and was very interested in staying. Initially I had no problem booking. The listing said they accept major credit cards, but I was not asked for card details during booking, so under special requests, I put that I'd like to pay by card. But after I booked, I was told via email, in Chinese no less, that I cannot pay by card, and must pay by cash on arrival. I had booked 2 nights and did not have enough cash to pay for 2 nights. Luckily I can read some Chinese, so I wrote back and asked to contact him on Wechat so I can explain better, and explained to the owner, in Chinese, that I cannot pay in cash as I don't have enough cash. As this was quite late at night, they cancelled the booking for me first thing next morning despite it being a non-cancellable room.
I still needed 2 nights stay somewhere, so I booked 1 night there, as I did have enough cash for 1 night, and wanted to see the property, so re-booked a twin room for 1 night. I got a king room however. Not that there is anything wrong with the king room, but I was expecting something more teahouse-y, like the one I got in my booked room photos: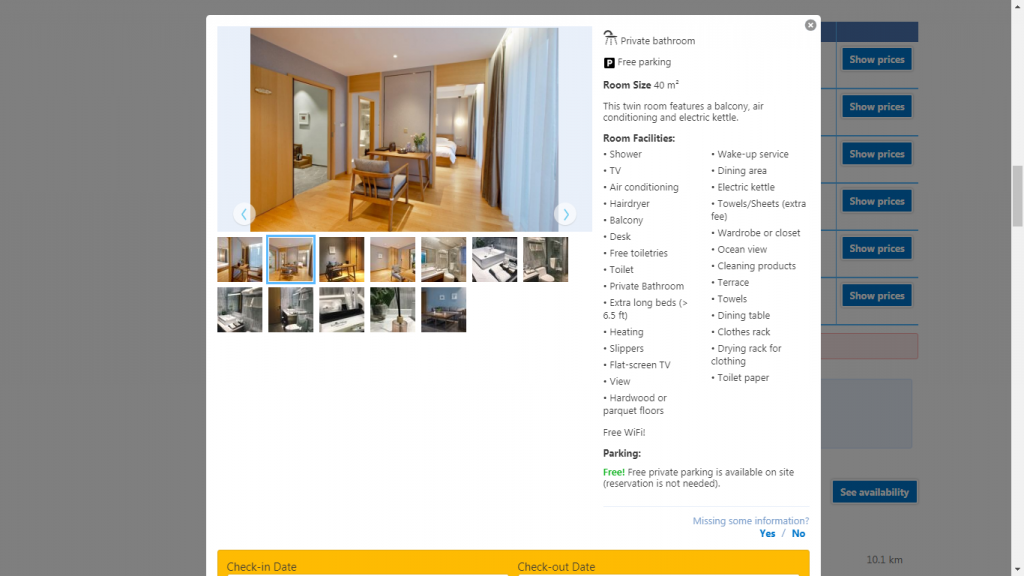 Inaccurate claims?
I am pretty sure Booking.com staff writes the description (in consultation with the property) for the properties as I have applied for jobs with them, but didn't end up getting it. At the time of writing this post, their description reads:
I am pretty sure Booking.com staff writes the description (in consultation with the property) for the properties as I have applied for jobs with them, but didn't end up getting it. At the time of writing this post, their description reads:
"Stay in the Heart of Xiamen – One of our best sellers in Xiamen!

3.1 km from Xiamen Conference & Exhibition Centre, Xiamen Exhibition Center Hotel is located in Xiamen and has free WiFi, express check-in and check-out and a ticket service. Featuring a 24-hour front desk, this property also has a restaurant and a terrace. A tour desk can provide information on the area.

At the hotel, every room has a desk. All rooms come with a flat-screen TV, and some units at Xiamen Exhibition Center Hotel have a sea view. At the accommodation each room has a closet and a private bathroom.

At Xiamen Exhibition Center Hotel guests are welcome to use a hot tub.

Xiamen University is 14.5 km from the hotel. Xiamen Gaoqi International Airport is 14.5 km from the property.

We speak your language!"
Addressing the claims:
Stay in the Heart of Xiamen – While the location is close to the Exhibition and Convention center (only a 10Y flagfall price for the taxi and 1Y around 10-20 minutes bus ride depending on route and frequency of bus), I would not say it is close to downtown Xiamen. You'd need to change buses here to get anywhere.
One of our best sellers in Xiamen! – I couldn't say whether it is a best seller or not as I don't work with Booking.com and don't know where else it's listed.
WiFi -Yes, they do have free wifi, but I felt there was no sense of professionalism, as I was met with the owner's friend who wanted to give me the WiFi password via Wechat, a Chinese messenger smartphone app and evil necessity, which requires internet to work. As a hotel, I'm sure they get travellers, and they should probably realise that not all travellers have a local sim card/data on their phone especially when they just got off the plane.
24 hour desk?
I never experienced a 24 hour front desk, express check-in and check-out nor a ticket service whatever that is. When I arrived in the morning around 10am, I was unable to check in as they don't do check in till after 2pm, which is fine. There were 2 staff at the front tea table reception, where I left my luggage and went to the Xiamen tea fair, The owner messaged me on Wechat to tell me I should let him know at least an hour before I wanted to check in later in the evening (because I needed to get my own dinner before going back) because he won't be there and his friend will show me to my room instead and get cash payment from me. I said that is not a problem as I need to get dinner and that would take at least an hour. When I got back to the property around 10pm, there was no staff there and the front door was locked. The friend came to open the door for me. He took my luggage up the stairs to my room, connected me to the wifi, and gave me a security code to access the front door outside normal hours. I had to remember it or else I would not be able to get back in when there is no one there. Also had to be super careful not to ruin the room card by placing it near my phone, because I would not be able to get back in 'after hours' if it did. I don't know about you, but when I am on holidays I don't frequently get back to my room around 6pm each night.
I could not say whether they could provide information on the area as I never encountered anyone at the desk the time I was there.
Restaurant? What restaurant?
I asked the person if I could heat food here, since this was an apartment and I was hoping there was a microwave. He said I can, and showed me the small kitchen downstairs. There was not a microwave in sight, instead, he welcomed me to use their woks to heat my food on their induction stove. There were numerous small cockroaches freely crawling around on the kitchen counter, and the woks were oily and look like they have never been washed. Wasn't going to eat there even if I were paid. They reiterated that they do not provide breakfast but can do other meals,.. if you have a large group, meaning they cannot provide me with dinner since I was just one person. There was no restaurant onsite besides this.
The rooms themselves were pretty well described, however, I don't believe they speak English, as they replied to all my emails from Booking.com requests (no smoking room, quiet room, pay by card etc) in Chinese.
Checking out
The next morning when I wanted to check out around 8am, there was no staff around at all, no one to help me take my luggage down, and I hadn't a clue where to put my room card, until I saw someone in the hall, who told me to just leave it on the desk.
As taxis aren't allowed in the complex, I had to take my suitcase to the accommodation and back out to the road myself, and hail a cab from there.
This place certainly gave me some unexpected surprises.
Maybe you like to try the less common options, like boutique places, or go for new or places with no reviews on booking sites because you like exploring. I hope this review was detailed enough to eliminate any surprises you might get and give you an idea of what to expect if you do decide to come here.
My advice to the property would be to make your listing description accurate and honest. People don't mind what their accommodation is like (different people go for different accommodation types) but what we DO mind is when the description is inaccurate and we get nasty surprises. Don't say you have a restaurant when you don't, and do let customers know your property does not have a lift.
---
Book your below flights now!
And now that you have your flights, you are going to need a place to stay right?
If you would like photography or Chinese-English translation services for your existing or new business/restaurant/hotel, please contact me using the contact form on my contact page.