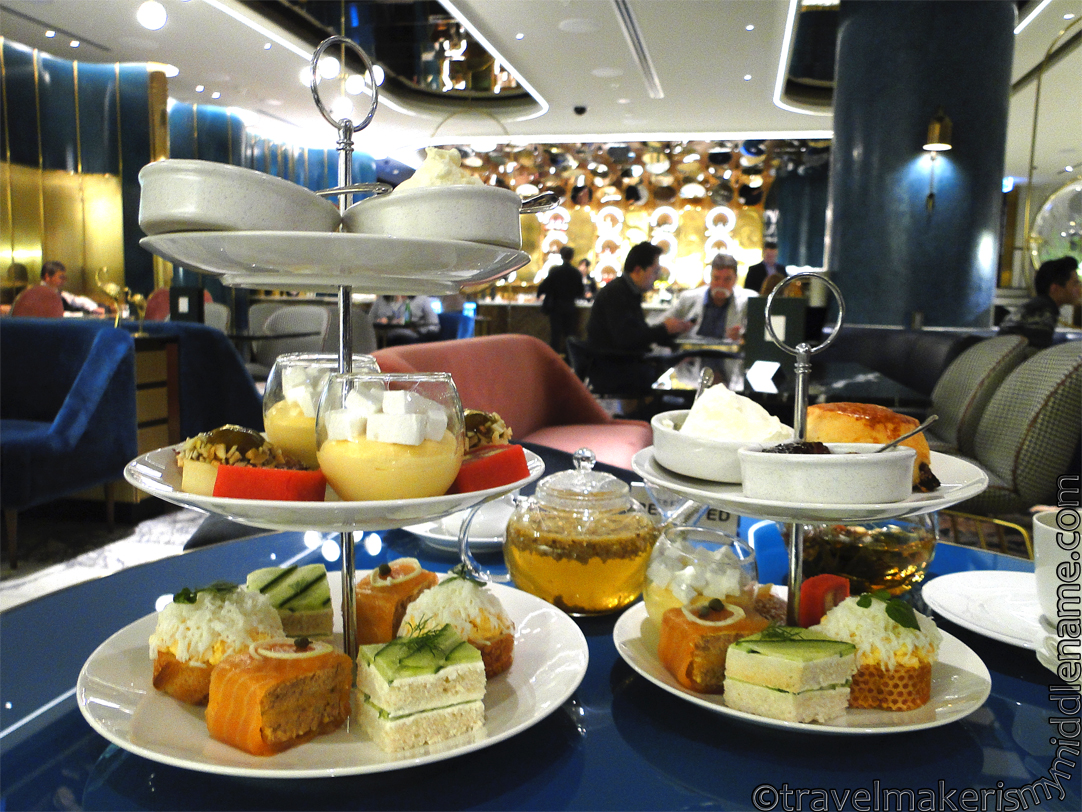 Did you know: Technically, the fancy stuff we now call High Tea, was originally called Low Tea and bridged the gap between lunch and dinner in England, but if I call it Low Tea, people will get confused, and I like to be accurate, so in this post, I'm going to call it afternoon or English tea.
G and Tea is a cleverly named new restaurant/bar at The Star in Pyrmont, Sydney, Australia, only opened a few months ago. Tea house by day and alcohol bar by night, this fancy looking place was somewhat hard to find if you come by the light rail.
I booked afternoon at G and Tea bar online for 3 people, and it was $25 per person in 2019, very cheap compared to other places in Sydney.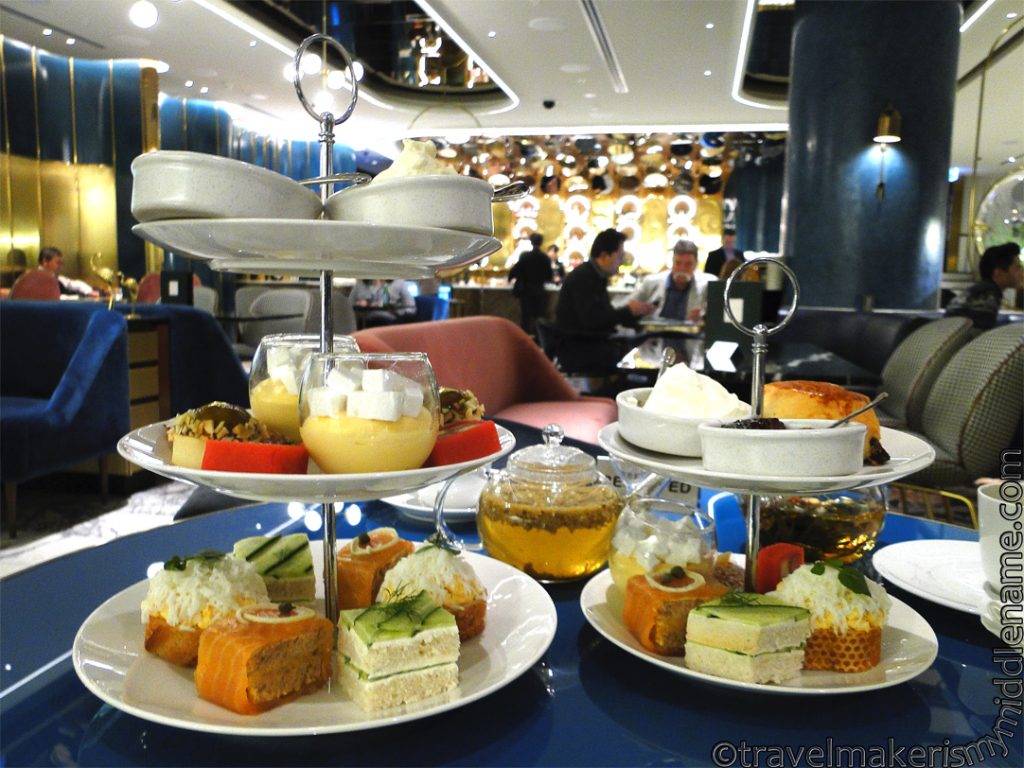 At only $25 per person, it was okay, considering high tea elsewhere is much more expensive. However, I was disappointed at the overall experience – the food was very boring and sub-par for high tea and The Star's standards.
The cucumber sandwich was quite bland – tasted like normal bread with cucumber and flavourless cream cheese/sour cream, I've had tastier ones elsewhere. Same for the egg and I assume, crab baguette – very bland.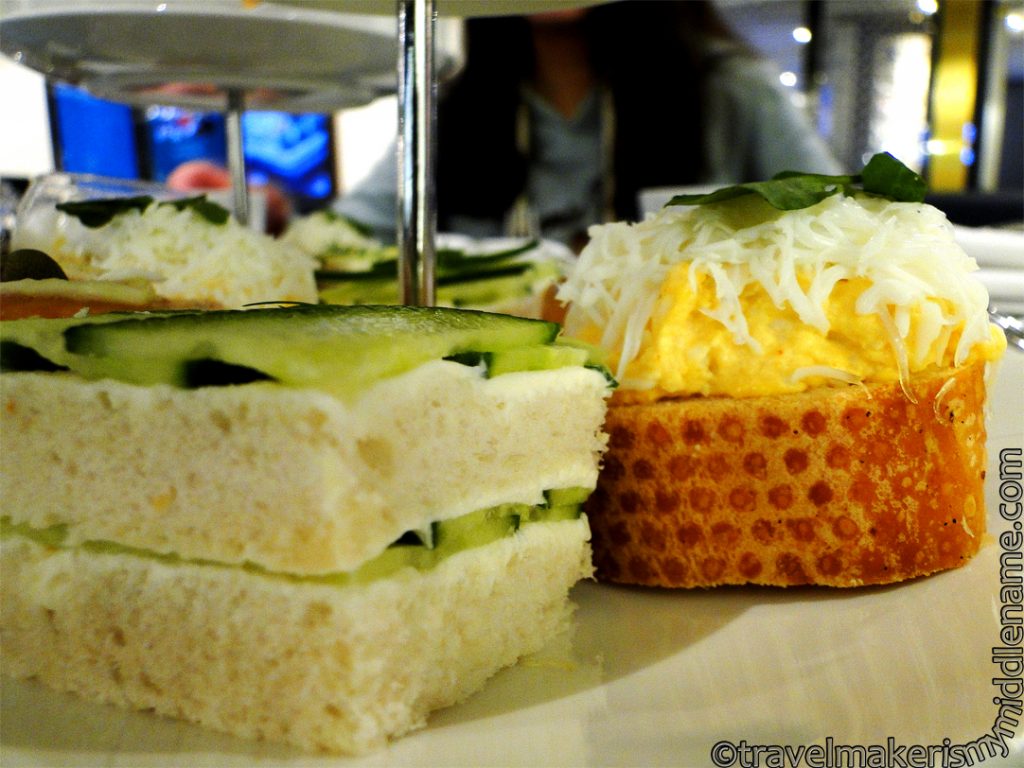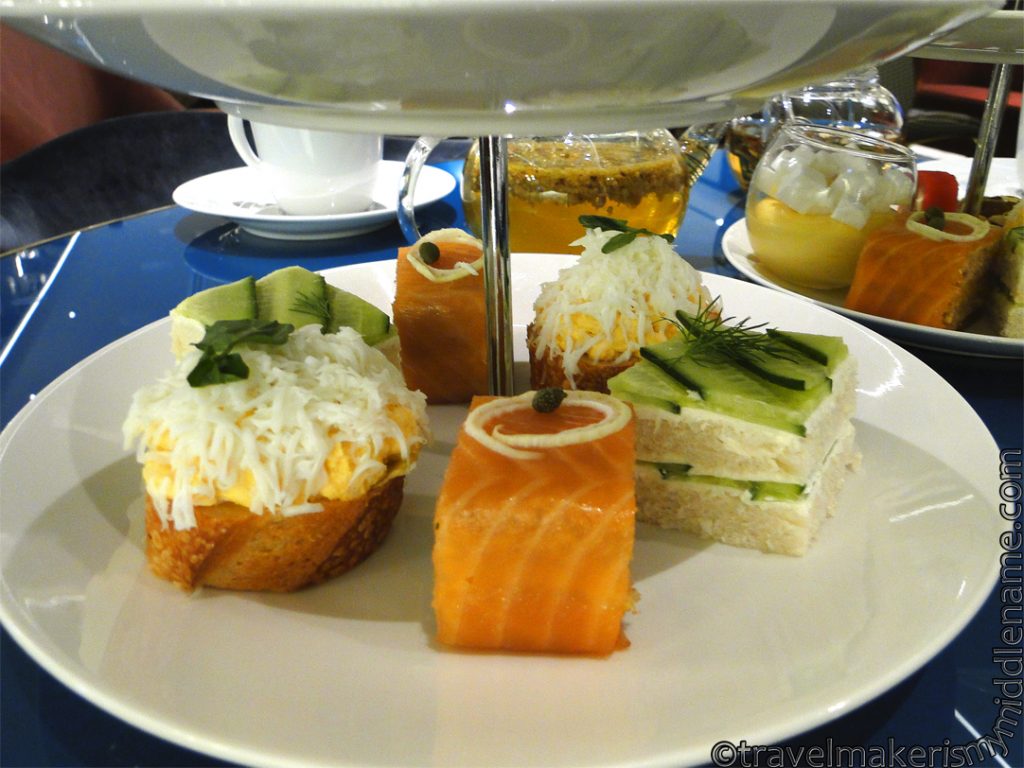 The only thing I liked was the scones and the cream and the pineapple tea I had; the other sweet items were either too sweet or dry. The drinks choices in the package were good – hot chocolate, jasmine tea, pineapple tea and apple tea. The jasmine tea (a green tea) tasted like Ceylon black tea or even coffee. I'd go back for more of the pineapple tea.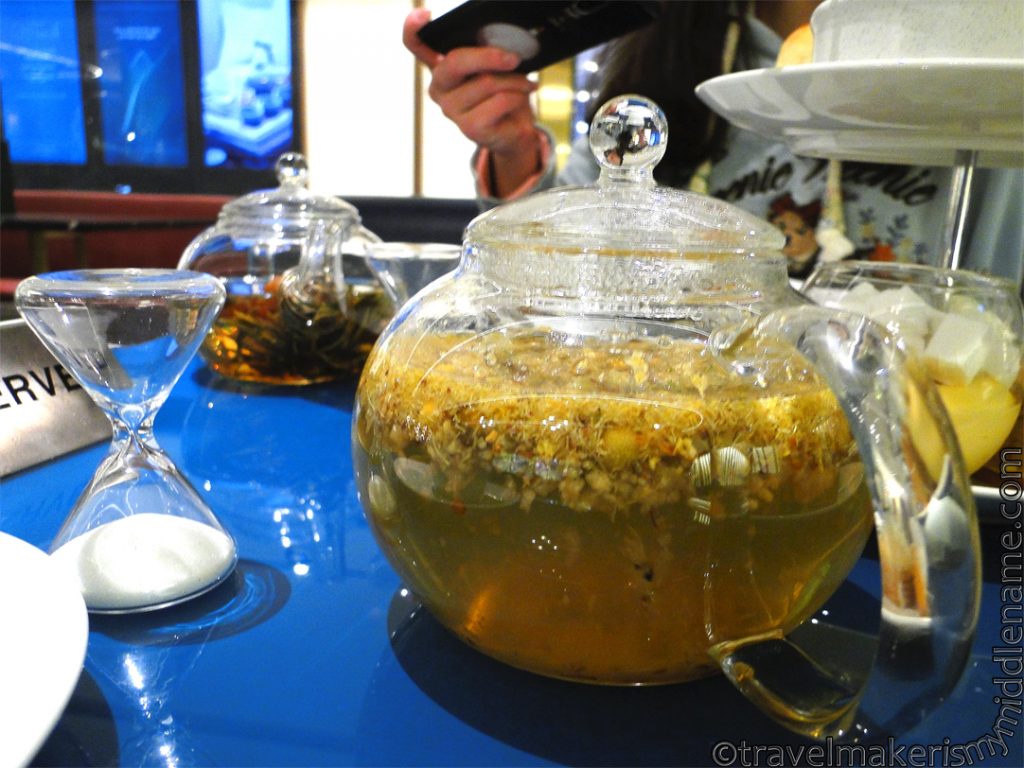 Service:
I booked it online and it didn't ask me to pay in advance. There was no notice telling us to pay at the time of dining. Thankfully I called ahead of time and the person said we pay when we get there. I booked for 3 people myself included, it could easily be for people other than myself. Myself and my mother were treating a friend of hers (I made the booking). When we arrived, I went to the bathroom, so missed the waiter taking drink orders, which is fine, I ordered drinks later, when I returned to my seat, we were served the food. There was no indication of payment rules when we arrived that I saw. This could have lead to major problems. After we finished dining, my mother assumed I already paid online and we got up to leave. Imagine the embarrassment and chaos if I hadn't asked if she paid yet, or if I booked for friends and didn't go and both assumed the other paid, and we could have been wrongly accused of dine and dashing. Not good enough, The Star! That, plus the waiter didn't go over the items on the food tray – would have been nice to know what's what in case of allergies or something else (yes, the booking process allowed us t mention food allergies but would be nice to know what's what). There was lemon curd with lemon marshmallows – sour, everything else non-savory was sweet and if we ate those first, the lemon curd would have been unbearably sour. Also, there was only 3 types of savory items, two of which had no salt flavour, and 5 sweet items. I would have liked more savory items, which is one of the reasons why I chose G and Tea instead of elsewhere because it seemed like there was less sweet items here from the menu.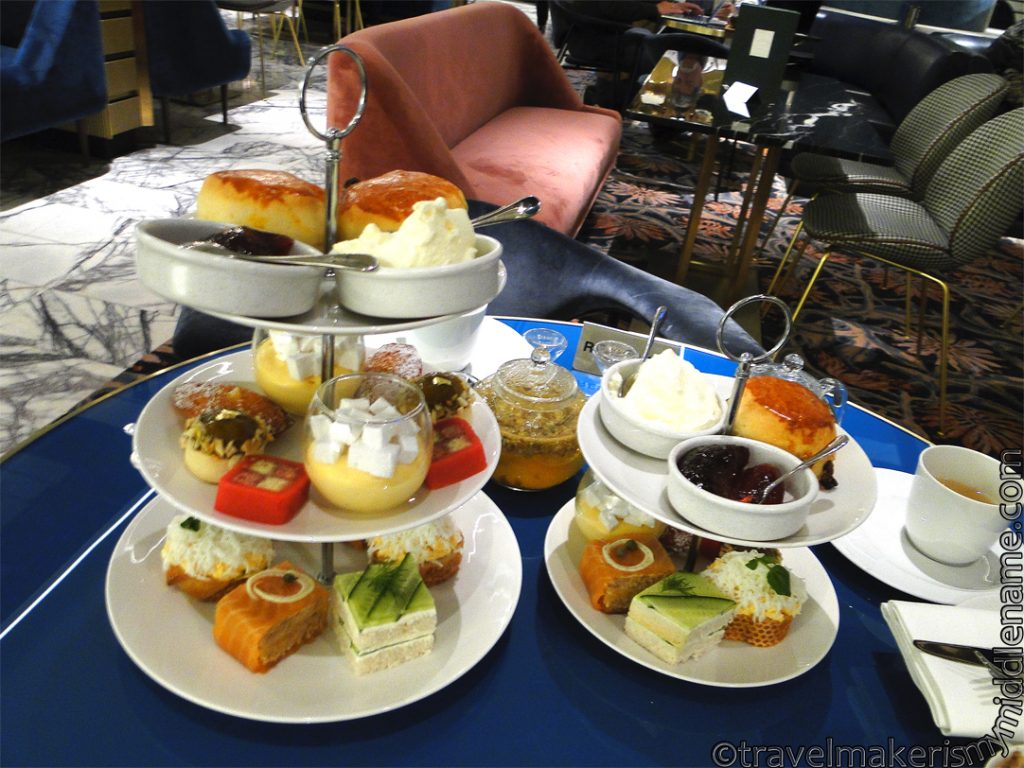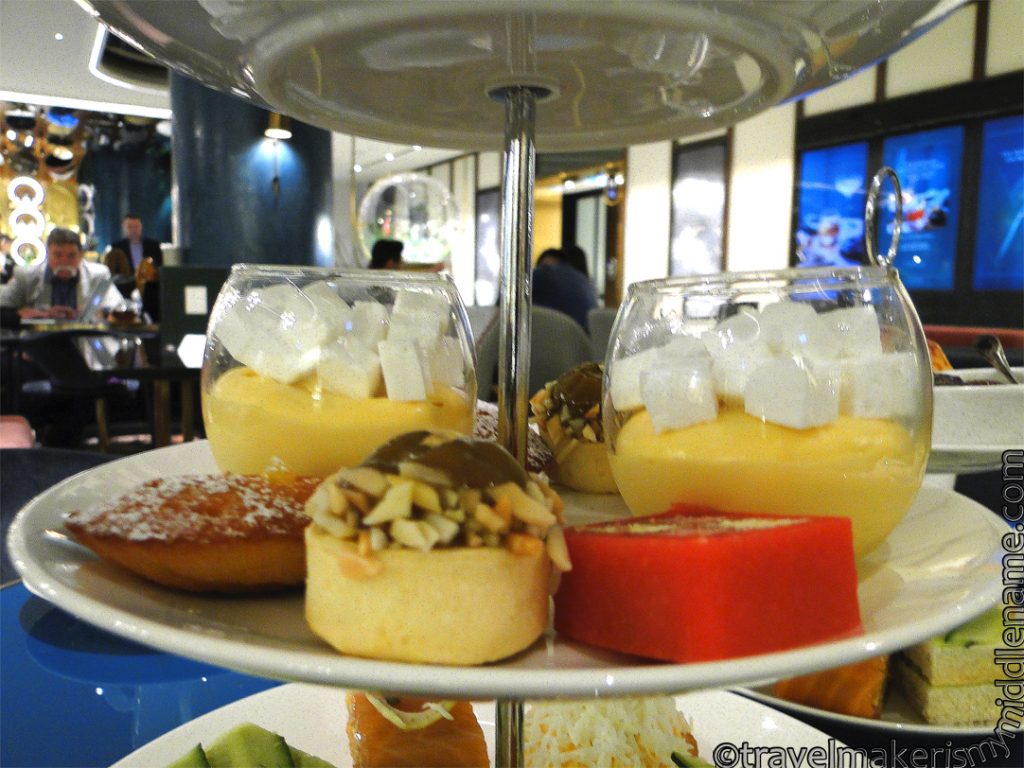 Ambiance
I hate dining in dimly lit places, so I felt this place was too dark for a tea house. Fine for a bar. I think they should change the lighting for tea time. Also, our green round table (yes, it looks blue in the photo) by the piano was covered in smudges and finger prints, very unlike the high standards of The Star.
Finally, the location was hard to find. We came by light rail – as before (been there before), there was no staff around to ask for directions! There was no map in my booking confirmation either (not that it would've helped… internal maps rarely help unless done well). I am surprised The Star did not take into consideration visitors who come by light rail, they have a dedicated light rail stop and should use it!
Do I recommend it? I would recommend this place for children's afternoon tea or if you want to try English afternoon tea that's not that expensive, only because I've seen the children's ones elsewhere and the menu is no good – sugar overload instead of real food (Fairy bread? Chocolate? For afternoon tea? No thanks.) and it is cheaper here for real food.
G and Tea English tea is open for bookings from 12pm to 4pm daily.
Price: $25 per person (Website mistakenly says $24 per person under "Something to eat?" –> "High Tea". Notified them of this and no corrections have been made as of time of writing.
Website:
https://www.star.com.au/sydney/eat-and-drink/bars-and-club/gin-and-tea
How to get here: You can walk to The Star from Darling Harbour, if you were strolling there, otherwise you can get the light rail from any stop, at Central station or Convention Center in Darling Harbour, and get off at it's dedicated stop, The Star. The Pyrmont ferry stop is also close by near the National Maritime Museum. You will need an Opal card to use the train and light rail, or you can use your Mastercard with Paypass enabled.
Looking for flights to Sydney? Find the lowest fare with Jet Radar. I am an affiliate member of Jetradar, meaning I get a small commission when you purchase from my site through the affiliate programs. I personally use Jetradar and find that they do turn up the lowest fare results. JetRadar is hosted by Aviasales.