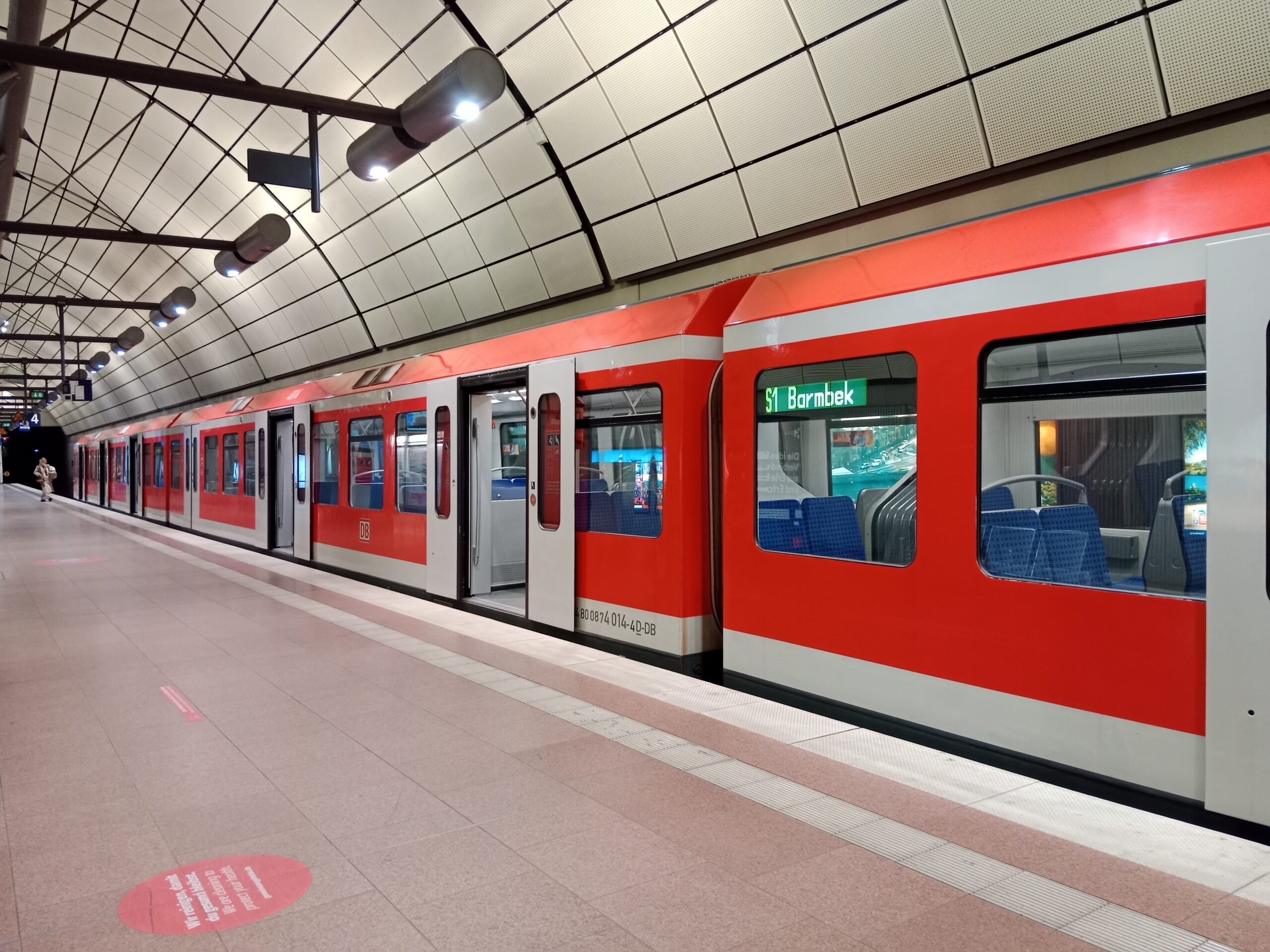 Backpackers rejoice! Explore all of Germany for just €9 a month in June, July and August 2022!
Your quick, no nonsense guide to the €9 ticket ticket!
The €9 ticket offer has ended. This article has been edited and preserved for archival purposes. A new €49 ticket is planned. Stay tuned for news.
In this guide, I will go over the main points of the new €9 Euro Ticket. For more FAQ's, visit their official webpage: https://www.bahn.de/angebot/regio/9-euro-ticket
What is the €9 ticket?
To offset the increased cost of everything else, the German government has introduced a flat rate monthly transport ticket just in time for the summer holidays. This ticket, known as the €9 ticket (9 Euro Ticket), is a transport ticket that costs just €9 and is valid on all forms of public transport throughout Germany – nation-wide! This means you can use it to ride all public buses, ferries, RE and ME trains, S-Bahn, U-Bahn within Germany during June, July and August. You can take unlimited trips within the same month you bought it in.
Who can buy and use this ticket?
The good news is everyone, even tourists, can buy and use this ticket. Each person requires their own ticket. Children under 6 ride for free, over 6 requires their own ticket.
Where can I buy it?
The ticket is available at any ticket vending machine and also on the Deutsche Bahn website and app. Visit the official Bahn.de website here.
When is the ticket valid?
This initiative is in place for the summer months of June, July and August 2022 in Germany from June 1st 00:00 to August 31st 11:59pm. The ticket is valid in the same calendar month you bought it in, so it is best to buy it on the first day of the month. Depending on where you plan to go, it might still be worthwhile getting it on the last day of the month!
Where and how can I use it?
All public transport services (ÖPNV) in all states in Germany: Buses, trams, ferries, S and U Bahn, even trains, as long as they are regional (RE or ME) and not ICE trains. This means you can use RE trains to get from Hamburg in the north all the way to Munich in the south. Heck, you can even use it to get to Salzburg, Austria! You can use it with long distance trains to save money, for example, use it for a portion of the trip from once German city to another, then use an ICE or international train for the rest of the trip. Remember that you will need separate tickets for the non-9 Euro ticket portion of the trip.
Can I use this ticket to go abroad?
Did you know you can even use this ticket to go to Austria? Now you do! You can also use it for trips abroad to places where German tickets are valid in, ie: the route to Salzburg, Kufstein and Schaffhausen in Austria, but you cannot use it once you arrive in Austria.
What's the catch? What should I know before using the €9 Euro ticket? What are the limitations?
Do you want to unlimited travel across Germany for less than the cost of a meal? Well, so does everyone else. This means trains are crowded and more often than not, delayed. You might need to plan extra time, recently I  had a successful visit to Bremen which I will post about soon, and a trip to Hamburg. I had a train that was 19 minutes late and made me miss a connecting bus that comes once an hour, because the transfer was just 20 minutes. RE trains can also be a lot slower than ICE trains depending on where you want to go. An obvious example is Hamburg to Munich – an ICE train takes just 6 to 6.5 hours and no transfers, but costs over €160, while the RE method takes 3 times the duration and 7 or more changes.
Seat reservation:
Since this ticket is only valid on regional and ordinary public transport, seat reservation is usually not available. However, where it is available, you can reserve seats for an extra fee.
Class:
This ticket is not valid for first class.
Bicycles:
Bicycles are not included in this ticket, and it is not recommended that you travel with a bicycle during these months as the trains will get very crowded.
Luggage:
I have seen people travel with luggage on trains during this time. It is doable but will be considerably harder depending on which station you get on – for example, Hamburg is a main station and most people get on there. It may be easier to get on at a main station or first stop along the route such as Hamburg than at a later stop because by the time the train gets to a later station, the train would likely be full from all the people who boarded at Hamburg.
Seats:
Due to the large number of people taking advantage of this ticket, seats would be hard to come by. My recommendation is to get to the platform early so you can board early and get a seat. Also see the last sentence in the previous paragraph.
Okay, just how crowded can it get?
If you have ever been in a crowded train in public transport – you would know.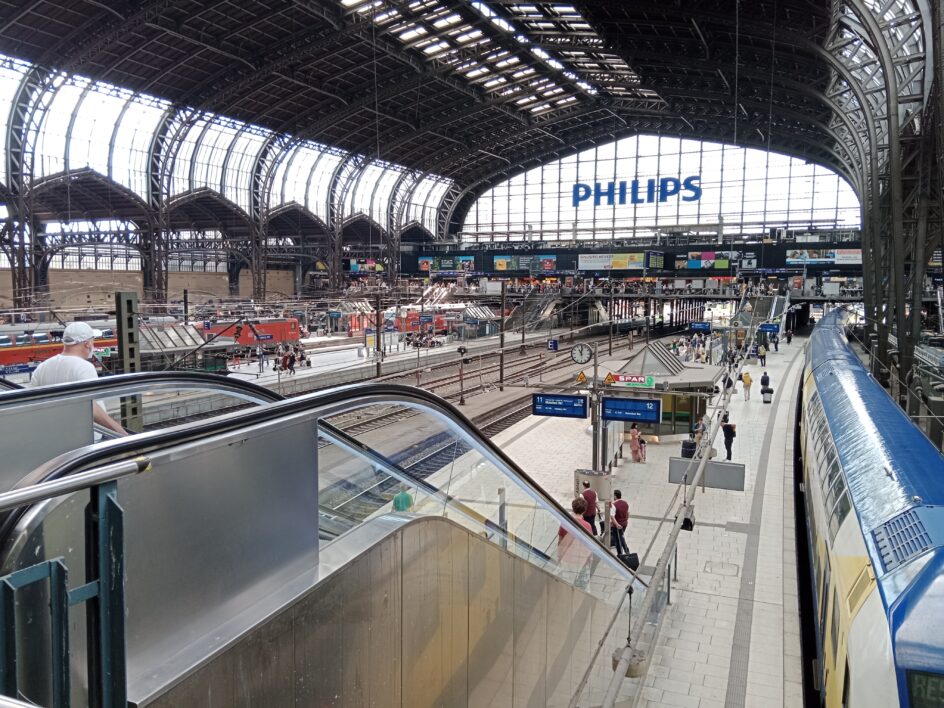 People waiting to get on the train at Hamburg central train station.
This photo shows people seated on the floor by the door as one person gets up to let someone on.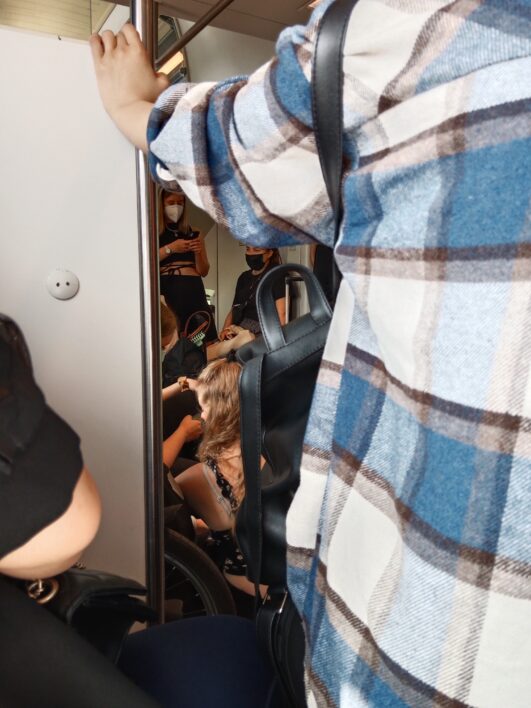 Note these pictures were taken on a weekend.
Should I just give up and purchase ICE train tickets instead?
That depends. There are plenty of short trips you can make depending on where you depart from, for almost free, with this ticket. Save the money for a longer trip elsewhere. It is not recommended to use the 9 Euro ticket to go long distances, even if it is possible, in one go, because the trip can last well over 10 hours. The journey from Hamburg to Munich for example, can last almost 13 to over 14 hours with as many as 7 transfers, and transfer times as little as 9 minutes (think about potential delays). The journey from Hamburg to Salzburg, takes 13 to 17 hours and as many as 9 changes between multiple types of transport methods. So, use ICE for a portion of the trip or simply break your journey up and spend a night in each location.
Tips when using the €9 Euro ticket:
If you are travelling long distances, consider breaking up your journey into several stops. Spend a day or two in each city, stay overnight and continue the next day. This gives you the chance to see more cities along the way and provides a buffer for delays and missed connections, and a rest opportunity for long trips. For example Hamburg to Munich requires a change in Hanover – why not stay overnight there instead of trying to get to Munich in one go?
Arrive at the platform early so you can get on the train when it arrives – in Germany, the train arrives and stays on the platform a few minutes before it is due to depart so you can get on early and although it is still not a guarantee, it gives you a better chance at finding a seat.
How to find trips that use only the €9 ticket?
In the DB smartphone and mobile devices app, you can search for a trip. Underneath the destination station, there is a section that is not quite obvious, that lists the modes of transport, as indicated in the blue rectangle below.
Simply tap on that, then in the next screen, under "means of transport", turn on the option "Regional transport only". This will turn off ICE and fast trains and only search for RE trains.
Here is an example search result using RE trains for a trip from Hamburg to Munich: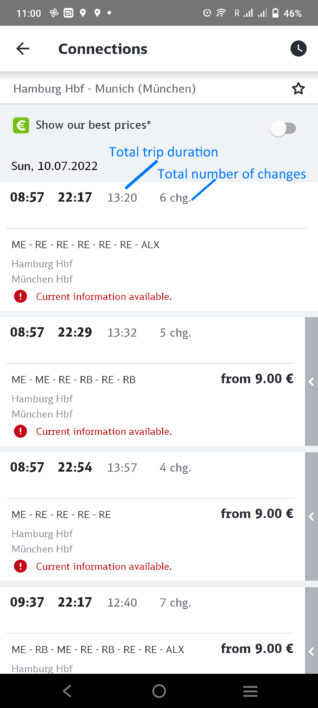 Will you go on a trip with the €9 Euro ticket? Have you already gone? Leave a comment about how it went!