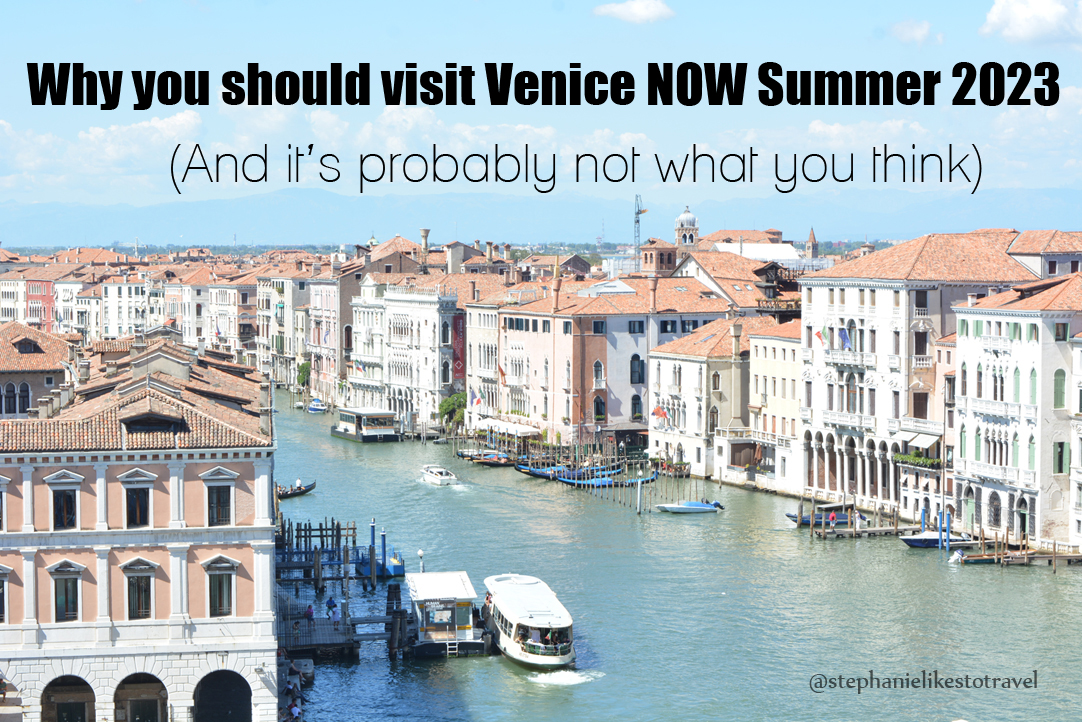 I don't write clickbait and hyped up articles, so when I say there is a good reason to visit Venice now, you can be sure there is a very valid reason for saying this.
Just entering Europe will soon involve more red tape and become more bothersome and costly for people from non-European countries, including those who can usually travel to Europe visa-free, due to the introduction of the European Travel Information and Authorisation System (ETIAS), and doubly so for people visiting Venice.
What is the European Travel Information and Authorisation System (ETIAS)?
The ETIAS is a new system that monitors visitors to Europe. Under this new system, non-European visitors who hold passports from countries that are usually visa-exempt to enter certain countries in Europe, are now required to pay an ETIAS travel authorisation fee in order to enter Europe. This is not a visa and not a replacement for a visa, but a registration or entry fee, so they know who will be entering Europe and when, before they even enter. The fee is projected to be €7 per person, regardless of age. You can read more about the countries that requires an ETIAS travel authorisation application and the countries that visitors are passport holders of on their official website here.
While the fee is not high, it is one extra hurdle and annoyance to overcome if one wants to visit Europe.
On top of that, Venice is also introducing a fee to visitors. The details on this are less clear, but it was originally planned to be introduced in January 2023 but that has not happened. The fee was supposed to be between €3-€10 and placed on visitors who do not stay overnight. As a side note, know that those who do stay overnight are charged a city tax per person per night, payable to the hotel but collected by the city, so is additional to the hotel nightly rate and paid in cash.
So why should you visit Venice NOW?
The good news is the European Travel Information and Authorisation System isn't in place so applications are not open – yet. It is expected that it will be in place by next year (2024) or as early as November of this year, 2023.
The other good news is that despite originally planned for January 2023, the entry fee to Venice is also not yet in place, so if you go now, you can save on both.
And with it being summer in Europe, now is the time to visit Venice if you want to avoid the extra trouble and cost of just entering Venice.
Best time to visit Venice
Venice can get very crowded in peak seasons. If you want to avoid the crowd and overpriced hotels and still enjoy good weather, the best time to go is in August, which is when I went last year in 2022. This is towards the end of summer, but if you love the sun and warm (hot) weather, do not fear: generally, the weather is still hot, high 20s to mid 30s Celsius, with lots of sun.
Granted, there were rainy and cloudy days, but perhaps due to luck, I did not encounter any. On my first day in Venice, I met some Australians who were on their last day in Venice, and they said I was lucky that I just missed the bad weather – lots of rain, gusty wind that was blowing outdoor furniture around and the day we arrived, a bright sunny day, was the first rain-free day of their stay.
What to see and do in Venice
This post will provide a brief outline of some of the attractions and things to in Venice and their costs. A series of posts will follow. Subscribe to get notified!
Here is a list of things to see and do in Venice, in order of recommendation, first one being most highly recommended.
Go to the neighbouring islands of Murano and Burano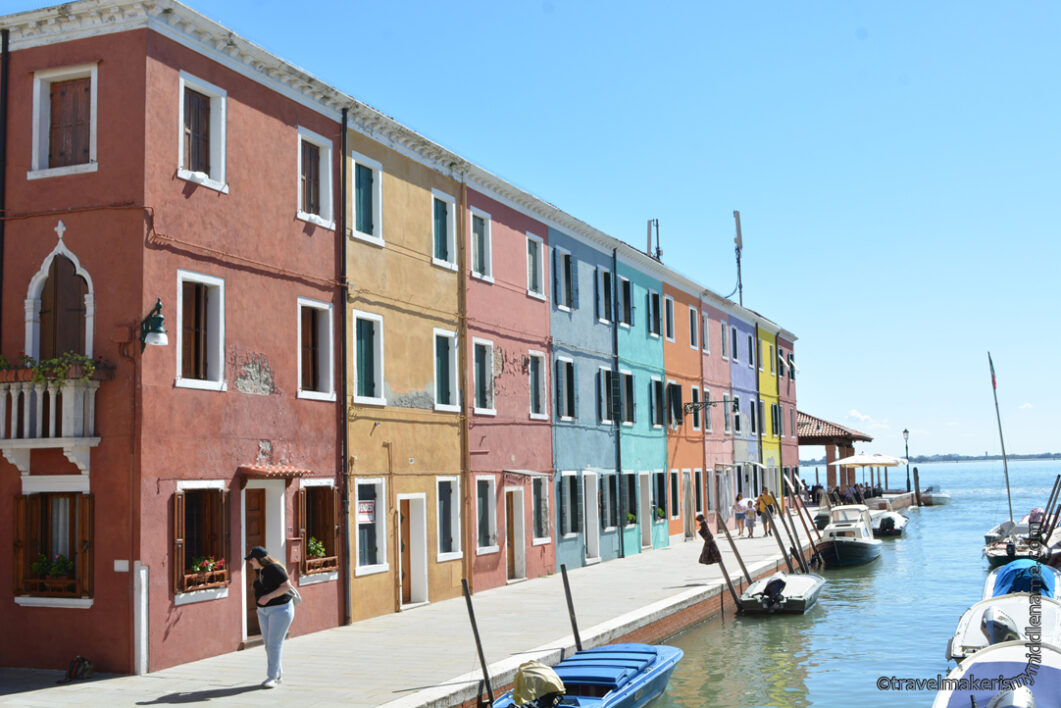 Cost: A ferry ticket, exact fare varies.
The first place on the list isn't even in Venice. The islands of Murano and Burano are outside of Venice, and are where all the colourful houses are. Although it is not in Venice, it can only be accessed from Venice. There are no separate entry fees as of 2022 and all you need is a ferry ticket and the ride is just 15-20 minutes. You can save by buying an unlimited transport ticket depending on how long you want to stay in Venice. You can easily see both islands in one full day in the summer months if you don't intend to go shopping. I like to take my time and still managed to see both islands and take photos as well as visit several stores.
Go to St Mark's Square (Piazza San Marco)
Cost: Free
St Mark's Square is one of the most famous if not the most famous places within Venice and the best thing is, it is free. If I have to choose one place within Venice* that you should see, it is St Mark's Square. Even though it is simply an open paved public square, so-named because of St Mark's Basilica at the premise, you can admire the facade of the basilica and enjoy the views of the waterways.
*There are other places around Venice, which is covered below.
Insider tip: Do not sit at the chairs outside the cafes and restaurants in the square, thinking you want to rest for a moment, even if they are unoccupied. The businesses there charge a service charge, or cover charge, also know as a seating charge, per person, simply for occupying their seat. While I did see people sit there early in the morning when I went to shoot pictures at sunrise, the restaurant had not opened yet so there was no one to police them, but the same cannot be said if it was in business hours.
Cost: ??
St Mark's Basilica is the cathedral in St Mark's Square. At the time of my visit, St Mark's Basilica was unfortunately undergoing construction maintenance or restoration work so was not open. However when it is open, this is a paid thing one can do, and since you are already in Venice, why not?
Go for a walk and appreciate the city sights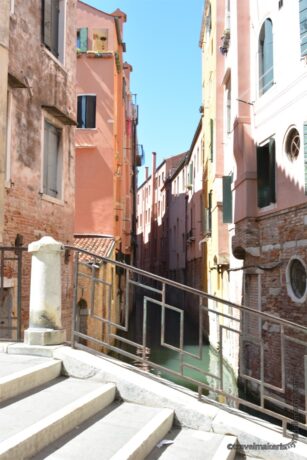 Cost: Free
Venice the city is a destination by itself because it is one a few cities that is built on water: instead of roads, it has waterways. No vehicles are allowed, not even bicycles, so people get around by ferries, or "water buses". Even the ambulances are boats, and the streets are connected by numerous bridges. So the whole point of going to Venice is most likely, to see Venice. And the way to do that is to simply go for a walk. There are many traditional houses built with traditional materials like brick, timber and stone, with colourful windows, window sill flowers, walls and ornate doors. Just take a walk through the streets and enjoy the sights. No two bridge is the same and there are different and beautiful buildings around every corner.
Visit the Rialto Bridge
Try the gelato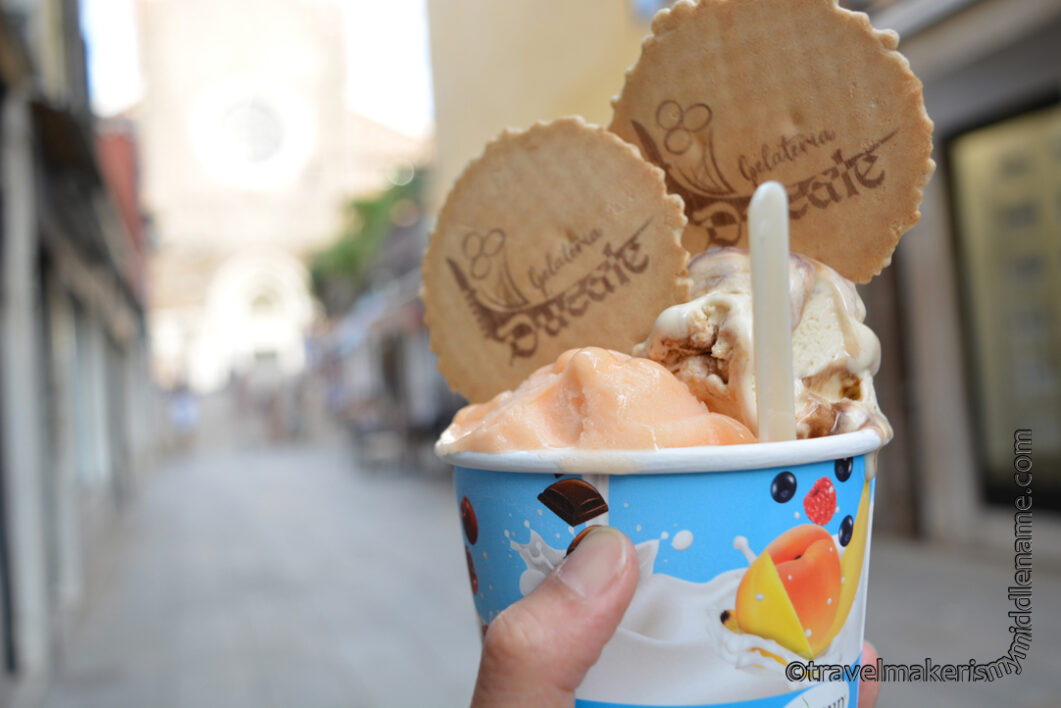 Cost: 1-3€ per scoop
Although ice cream was invented in China, what better place to try Italian gelato than in Italy. And while you can try gelato anywhere in Italy, this is something you can 'do', not just 'see'.
I love gelato. It has a totally different mouth feel to ordinary ice cream – it is a lot more dense, so much so that it is hard difficult to stab a spoon into, and needs to be 'warmed up a bit' to be scoopable, although it is served at a much lower temperature than ordinary ice cream. Where ordinary ice cream would be melting into a sweet, thick foamy substance, dripping from your cone, gelato would still hold its shape and remains solid and scoopable in a paper cup and melts in your mouth into a homogenous, cold treat. More dense means less air so you get more product in the same amount of serve. The prices in Venice were cheaper than reasonably expected, around 3€ per scoop, with some places around 2-3€ per scoop for one scoop, or even 1-2€ per scoop if you get more than one scoop at the same time. Unlike Italian pizza, there is a large range of interesting flavours, a variety of fruit flavours and coffee or cookies and cream, so I recommend you try that, because you can get vanilla and chocolate ice cream anywhere.
Go for a Gondola ride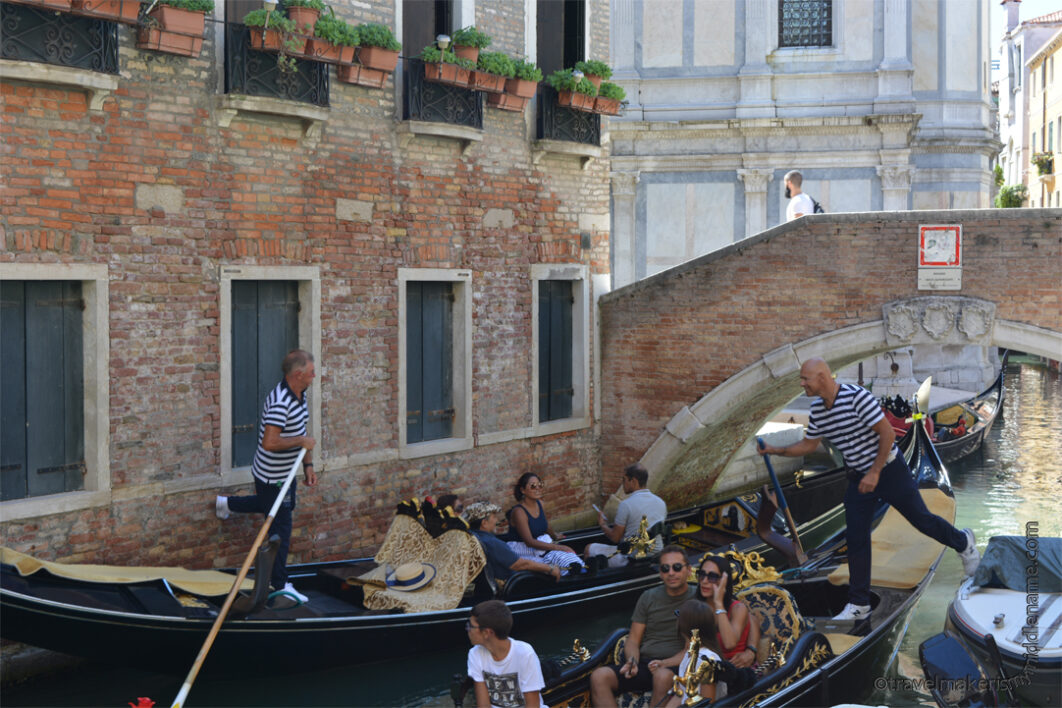 Cost: 60-85+€ per gondola per hour
The reason this is lower on the list is because I believe it is overrated and quite cliche.
While gondolas can travel in the narrower canals that ferries cannot, they are slow, so is more of an experience or gimmick than a transport method. At 60€ per gondola per hour, it is really an experience you actually want to have, a cliche thing to tick off, or do you want to go further in the same amount of time with less money?
Visit the Giardini Reali (Royal Gardens)
Cost: Free
While you should definitely prioritise other things, this quaint and lush garden is a nice place to have a rest. The planted arbours provide cool shelter in the summer, and there are water fountains that provide drinking water. The garden is located next to St Marks Square right near the water. If you have some time to kill or are nearby and want to have a rest, or just want a place to sit down to enjoy a takeaway bite, this is the perfect spot. Note that the garden is not open 24/7.
Try the squid ink pasta
Cost: €14
Another food to try: Venice is not the only place you can get squid ink pasta, you can get them in other coastal areas in Italy, like Cinque Terre. I wasn't a fan of the idea of the squid ink pasta so I didn't try it so I can't say much about it. But I was surprised that the price of this dish was pretty much the same regardless of which restaurant you go to on the island.
See the ambulance boat and hospital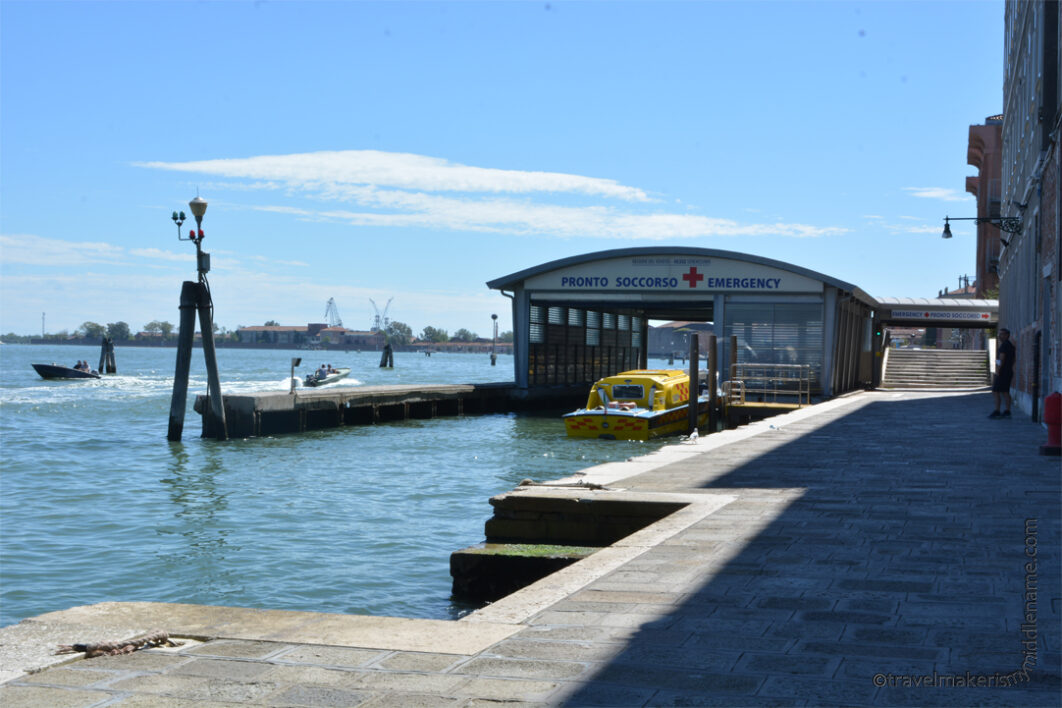 Cost: Free
Definitely not a must-see, and I do not intend to hype it up at all like the way the Spanish Steps in Rome are, but if you have done everything else you want and still have some time left for a small, low key thing, you might consider walking to the hospital. The hospital is built on solid land so I didn't go inside the hospital, but like everywhere else, since there are no roads, the ambulance outside is in the form of a boat and this might be of interest to some people. To be completely transparent: you'd just be walking along the water and seeing a boat outside a building on the water.
Try Cicchetti
Cost: Varies, a few Euros each
Cicchetti is Italian appetisers, like Spanish tapas but are served cold, like cold cuts of meat, bruschetta, crostini, breadsticks etc. These can be bought in any city and not unique to Venice so it is lower on the list, but if you need a small snack, you know this is an option. They can be purchased from cafes and bars, you can see them on display in there display counter. 
Search for flights to Venice now before Europe and Venice start charging entrance fees.  I personally use Jetradar (Aviasales) and recommend it due to its ability to find low airfares. I receive a very small commission from flights purchased through my affiliate links.